Gift cards can be purchased by clicking on the buttons below.
Gift Cards are available in the denominations of $50, $100, $250, $500, $1000 and $2000.
There is a minimum of $2500 to order. Additionally, orders for non-virtual gift cards that have a total under $3000 subject to $30 shipping charge.
Global Experiences by Viator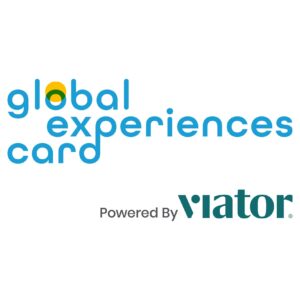 What is Viator?
The Global Experiences Card Powered by Viator, a Tripadvisor Company, is redeemable at https://www.globalexperiencescard.com/ towards over 350,000 tours, activities, attractions, events and experiences worldwide in over 200 countries and territories. Whether it's a day out with your family in or around where you live to visit a zoo or museum, or a city tour during your travels, the Global Experience Card Powered by Viator provides you all the tools needed to search, decide and book incredible experiences. Tripadvisor user reviews during the search process provides insight to help choose the best experience for your interests. Explore all the possibilities at https://www.globalexperiencescard.com/.     
1.Search our experiences database in the currency of your gift card and book your Experience at  www.GlobalExperiencesCard.com. 
2.Apply the 19-digit Gift Card Code and 4-digit Pin value as full or partial payment of the experience booking. You may combine up to four gift cards per booking.  The balance, if necessary, may be paid with a major credit card.  
3.Your booking will be confirmed by email directly from Global Experiences Card and the destination booking system. Simply present your identification for the pre-paid Experience. 
If the booking price is less than the value of the gift card(s) redeemed, the remaining portion of the gift card will be available for a future booking. If the booking price is greater than the value of the card(s), the difference must be paid with a credit card at the time of booking. All bookings require a major credit card to complete the booking. Must be 18 years of age or older. 
Up to four (4) cards may be redeemed per booking.
You may cancel your booking ONLINE with no penalty IF the cancellation is done online at GlobalExperiencesCard.com and is within the rules of the booking's cancellation policy. The value of your Gift Card and payment on your credit card will be reinstated within 5-7 business days of confirmation that the booking was cancelled within the rules of the experience company's policy. Please cancel ONLINE ONLY and not direct with the Experience operator.
If you need assistance regarding using your Global Experiences Card Powered by Viator, please email us at

[email protected]

and provide as much detail as possible to help us better serve you. Alternatively, you may contact the Experience directly for specific questions about an activity, tour or attraction.
You may also check the balance of gift cards at globalexperiencescard.com.
The Global Experiences Card is issued by Global Hotel Card, Inc. and use of the website www.GlobalExperiencesCard.com and gift card constitutes acceptance of these terms and conditions that may be revised at any time.  The full terms and conditions may be found at https://GlobalExperiencesCard.com/terms-and-conditions. Gift Cards do not expire.   
The Global Experiences Card may be used toward bookings made online only through www.GlobalExperiencesCard.com website only. Reservations made are subject to the terms and conditions of www.GlobalExperiencesCard.com . Please note that once your booking has been made, the details such as number of people, dates etc. may not be changed. Gift Cards have no value until activated. Gift cards are not credit or debit cards, and have no implied warranties. Gift Cards will not be redeemed or exchanged for cash, check or credit, except where required by law. Global Hotel Card, Inc. does not replace lost, stolen, or damaged Gift Cards. If the booking price is greater than the value of the Gift Card, the difference must be paid with a major credit card at the time of booking. If the booking price is less than the value of the Gift Card, the remaining portion will remain and may be applied toward a future booking made at www.GlobalExperiencesCard.com. This Card is issued by Global Hotel Card, Inc., which reserves the right to change any of these terms and conditions from time to time, without notice. Standard Gift Cards do not expire.
All bookings are prepaid. Your credit card will be charged when you complete your booking. The charge includes all taxes and fees unless otherwise noted. Please read cancellation policies of individual tours, activities and attractions carefully before booking. Please do not call the Experience directly to make changes to or cancel this booking, as their agents will not be able to change or issue refunds to your gift card. Changes to the name on a booking are not permitted after the booking is completed.
Subject to applicable law, use of this Site and its Content is at your sole risk. Services and Products made available on this Site are subject to conditions imposed by the Providers, including but not limited to tariffs, conditions of carriage, international conventions and arrangements, and federal government regulations. Providers who furnish products or services through this Site are independent contractors, and not agents or employees of Global Hotel Card, Inc. or Viator.com.
IN NO EVENT WILL GLOBAL HOTEL CARD, INC. OR ITS PROVIDERS BE LIABLE TO ANY PARTY FOR ANY DIRECT, INDIRECT, SPECIAL OR OTHER CONSEQUENTIAL DAMAGES FOR ANY USE OF THIS SITE, ANY HYPER LINKED WEB SITE, THE ACTS OR OMISSIONS OF PROVIDERS WHO FURNISH PRODUCTS OR SERVICES THROUGH THIS SITE, OR THE PRODUCTS OR SERVICES OFFERED BY PROVIDERS THROUGH THIS SITE, INCLUDING, WITHOUT LIMITATION, WHETHER BASED IN CONTRACT, TORT, NEGLIGENCE, STRICT LIABILITY OR OTHERWISE, THAT ARISES OUT OF OR IS IN ANY WAY CONNECTED WITH (I) ANY USE OF, BROWSING OR DOWNLOADING OF ANY PART OF OUR SITE OR CONTENT, (II) ANY FAILURE OR DELAY (INCLUDING WITHOUT LIMITATION THE USE OF OR INABILITY TO USE ANY COMPONENT OF THIS SITE FOR RESERVATIONS OR TICKETING), OR (III) THE PERFORMANCE OR NON PERFORMANCE BY US OR ANY PROVIDER, OR (IV) ANY DAMAGES OR INJURY CAUSED BY ANY FAILURE OF PERFORMANCE, ERROR, OMISSION, INTERRUPTION, DELETION, DEFECT, DELAY IN OPERATION OR TRANSMISSION, COMPUTER VIRUS, COMMUNICATION LINE FAILURE, THEFT OR DESTRUCTION OR UNAUTHORIZED ACCESS TO, ALTERATION OF, OR USE OF RECORD, EVEN IF VIATOR AND THE PROVIDER(S) HAVE BEEN ADVISED OF THE POSSIBILITY OF DAMAGES TO SUCH PARTIES OR ANY OTHER PARTY.
If, despite the limitation above, Global Hotel Card, Inc. or a Provider is found liable for any loss or damage which arises out of or is in any way connected with any of the occurrences described in the limitation above, then Global Hotel Card, Inc. and the Providers liability will in no event, in total, exceed the sum of US$250.00. Some states do not allow the limitation of liability, so the limitations above may not apply to you. You agree to defend and indemnify Global Hotel Card, Inc. and any Provider, and each of their respective officers, directors, employees and agents from and against any claim, cause of action or demand, including without limitation reasonable legal and accounting fees, in excess of the liability described above, in any action filed or commenced by any third party against Global Hotel Card, Inc. as a result of (1) your breach of these Terms or the documents made part of these Terms by reference, (2) your violation of any law or the rights of a third party or (3) your use of our Site.
Powered by Viator is a trademark or registered trademark of Viator Group, Inc © 2021 All rights reserved.  Viator Group, Inc. is not responsible for content on external websites.